CIRCUIT COURTS
TRIAL COURTS OF GENERAL JURISDICTION
---
The circuit courts are West Virginia's only general jurisdiction trial courts of record. Circuit courts have jurisdiction over all civil cases at law over $7,500 with limited exceptions; all civil cases in equity; proceedings in habeas corpus, mandamus, quo warranto, prohibition, and certiorari; and all felonies and misdemeanors. The circuit courts receive appeals from magistrate courts, municipal courts, and administrative agencies, excluding workers' compensation appeals. The circuit courts also hear appeals of family court decisions unless both parties agree to appeal directly to the Supreme Court of Appeals. The circuit courts receive recommended orders from judicial officers who hear mental hygiene and juvenile matters. The Supreme Court of Appeals receives appeals of circuit court decisions.
West Virginia's fifty-five counties are divided into thirty-one circuits with seventy-five circuit judges. A map of West Virginia's judicial circuits can be found here. The circuits range in size from one with seven judges to seven with one judge. Although as few as one or as many as four counties comprise a circuit, each county has a courthouse where the circuit judge presides.
Circuit judges are required to reside in the circuit they serve and must be admitted to practice law in West Virginia for at least five years prior to taking office. The elections are non-partisan and they serve eight-year terms. If a Circuit Judge leaves office prior to the expiration of his or her term, the Governor of the State of West Virginia appoints a replacement to serve until the next election.
Image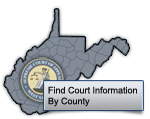 ---
Links of Interest